When leaving the coastal town of Los Cocoteros you will come across this small beach in Guatiza.
It is approximately 50metres long and is characterised by its calm waters, its shelter from strong winds and its natural stone slabs.
At one end of the cove you will come across a smallwell-kept wooden solarium that allows plenty of shelter and is very comfortable.
The stone slabs offer another alternative for you to sunbathe on giving you the option to enter directly into the seas water.
At the other end of the cove and only when there is a low tide, there is a small sandy area in which from here you can enter the water.
In between there is a ramp that is used for the local fishing vessels however when wet you must cross with caution to avoid falling.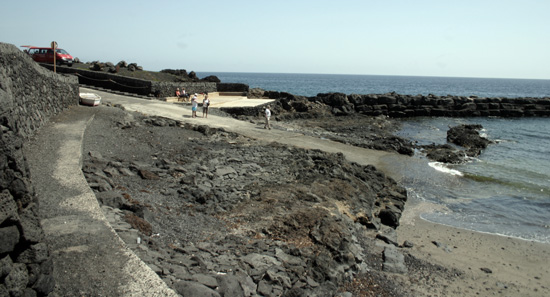 This area is very quiet. It is away from the hustle and bustle however is just a stone throw away from the tourist attractions of the north and Arrecife.
It is reached by car along a dirt track and there are no problems to park.
Summary
Small beach in the town of Guatiza.
Actual weather forecast: Just click here.
Map of location:

What to do before or after
This cove is close to Mala and as well to the beach La Garita de Arrieta. For lunch, why not watch the sunrise in Arrieta?
On the northern coastal route you have many beach options and why not before or after visit the famous Jameos Del Agua.