Las Malvas Beach is a small black sand cove that consists of barely 300 metres due to the erosion of the ancient lava flows of Timanfaya.
The mystery goes that the immense flow of lava floods from the fiery mountains of Lanzarote also flooded our minds.
Las Malvas Beach is reached by going through the village centre of Tinajo, it is clearly signposted.
From inland to this coastal area you must travel approximately five metres on dirt tracks.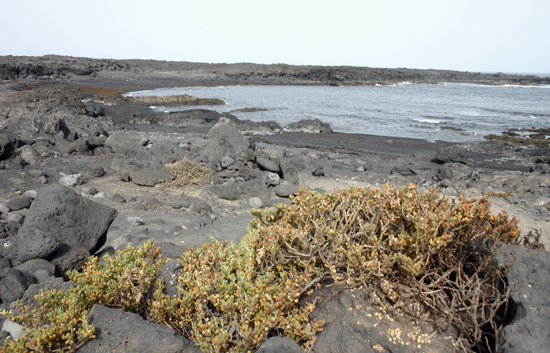 Las Malvas Beach faces north towards the Atlantic Ocean and is a permanent gateway as to where trade winds fly over the island.
As can be imagined therefore it is a windy beach although the surrounding black sand that mainly consists of volcanic lava occasionally creates wind barriers isolating you from the wind.
This small beach has an intriguing look thanks to its attractive shape, its flood of volcanic ash and a stream of malvas dotted all over the scenery.
Two huge natural rock pillars help to ease the Atlantic current allowing you to bathe safely, however the seabed can be a little rocky so it is recommended that you wear shoes when entering.
Las Malvas Beach is one of the least visited beaches on Lanzarote. Therefore it is ideal for those who want to get away from the tourist and crowded beaches on the island.
Summary
Small cove with black sand of about 300 metres length.
Map of location:

What to do before or after
Why not also enjoy one of the most appealing trails on the island by the road from Mancha Blanca to Caldera Blanca? Click here for more information.
On the way you could visit the Ethnographic museum El Patio obviously allowing you to pass by and stop of at Timanfaya.