The Excursion to La Graciosa on Catamaran definitely is a unique experience.
Visiting the island of La Graciosa is an absolute pleasure for the senses.
And sailing on this luxury catamaran is an unforgettable adventure.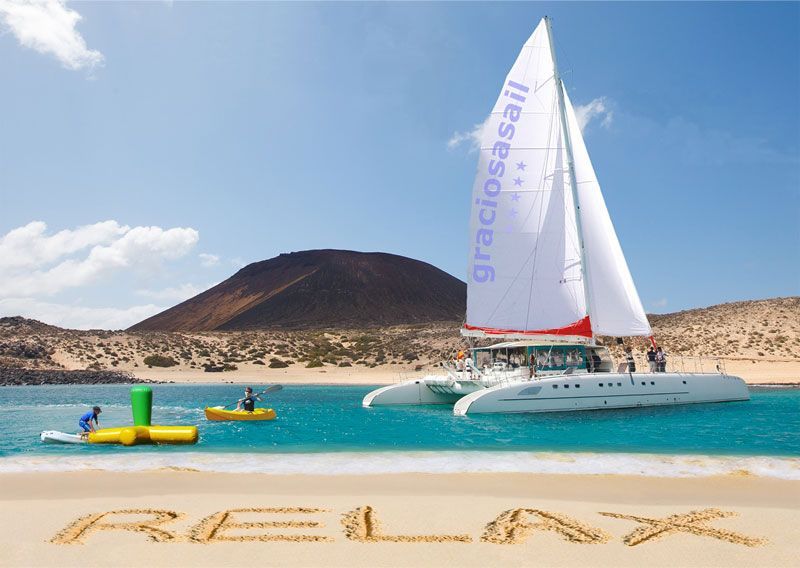 During the excursion you will enjoy the spectacular and exclusive Natural Park as well as the La Graciosa Marine Reserve.
But you'll also have time to relax and practice some fun activities on the unspoiled beaches of this heavenly island.
FULL DESCRIPTION OF THE EXCURSION
Transfer to the Port of Órzola
An air-conditioned bus will pick you up at your hotel and take you to the port of Órzola in the north of Lanzarote.
By ferry to La Graciosa
The Biosfera Express Ferry will take you from Órzola to La Graciosa Island.
It will be a short journey of about 30 minutes which will allow you to enjoy panoramic views of the spectacular north coast of Lanzarote.
La Graciosa on Catamaran
Once in La Graciosa you will board a luxurious catamaran where you will be offered a glass of champagne and snacks – time to start your adventure.
During the excursion you will be sailing along the coastline of the island and you will be able to enjoy breathtaking views, unique landscapes and spectacular virgin beaches.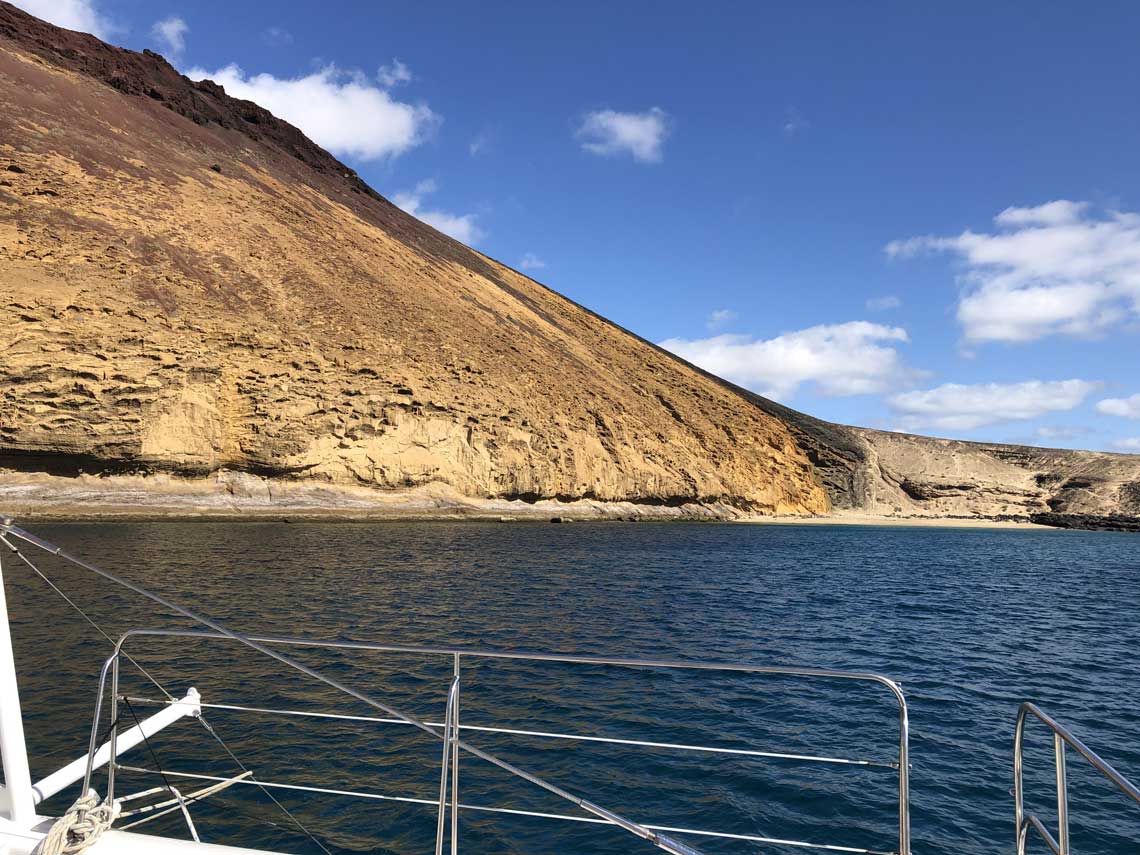 You will get to enjoy the panoramic view of the wonderful La Cocina Beach.
A spectacular beach of fine golden sand and crystal clear waters, hidden at the foot of the so called Yellow Mountain.
Activities and Relax
Afterwards, the luxurious Catamaran will drop anchor at the Francesa Beach, located in the south of La Graciosa.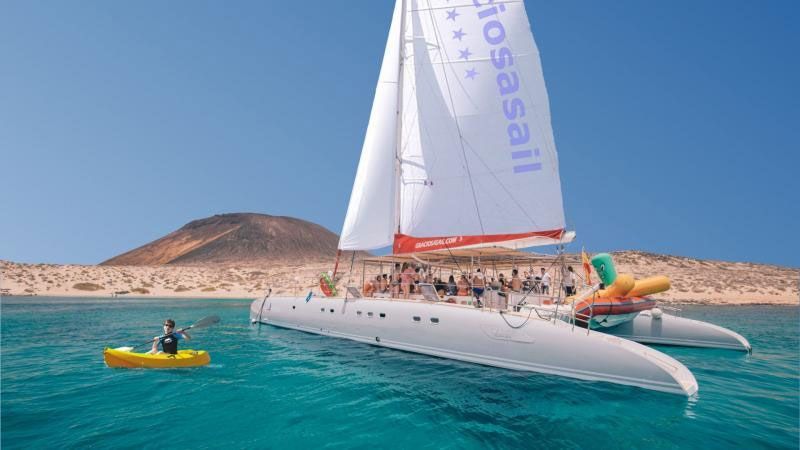 There you'll have time to relax, swim and do snorkeling or kayaking.
Furthermore, you will be able to visit the beach by water taxi, where some cold drinks will be waiting for you.
Lunchtime
The meal is served on board and consists of a mixed salad accompanied by pasta with two types of sauces, vegetables or tuna, bread and fresh fruit for dessert. Drinks at the bar are free during the whole excursion.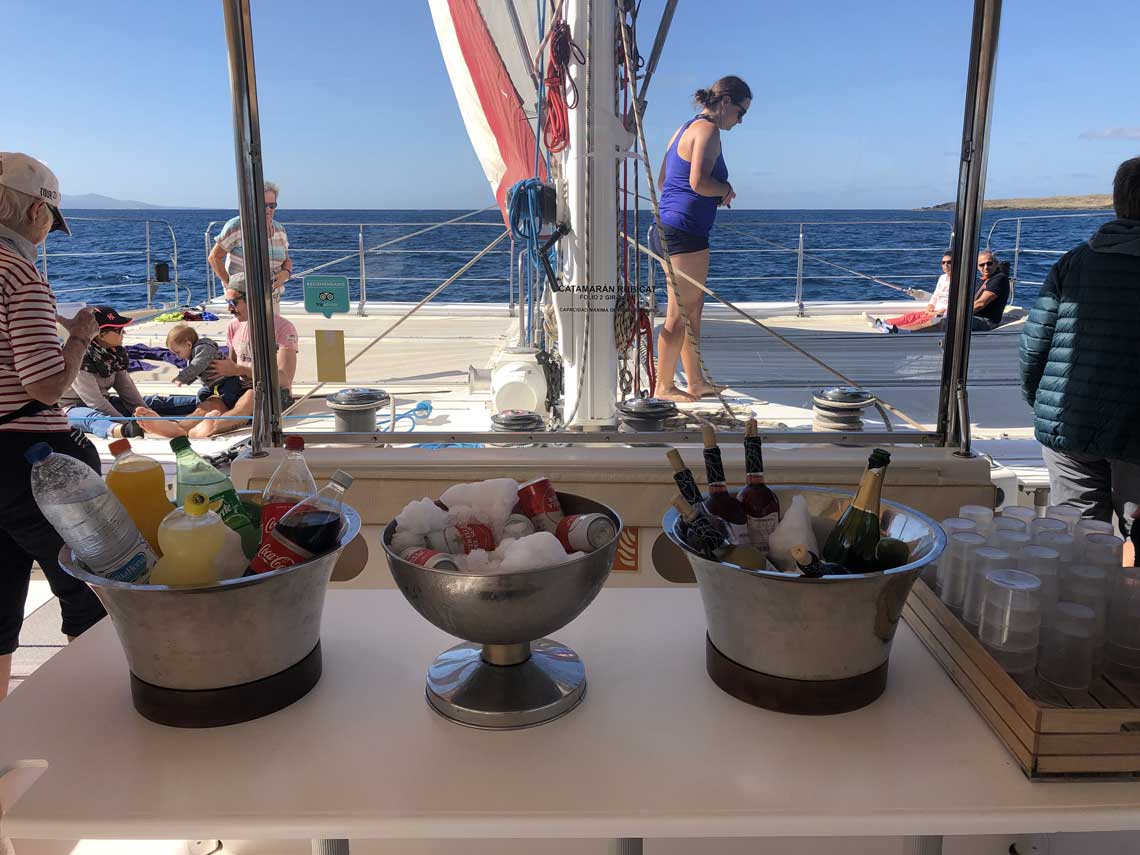 Getting to know La Graciosa
After lunch, the Catamaran will sail along the coast until returning to the port of La Graciosa.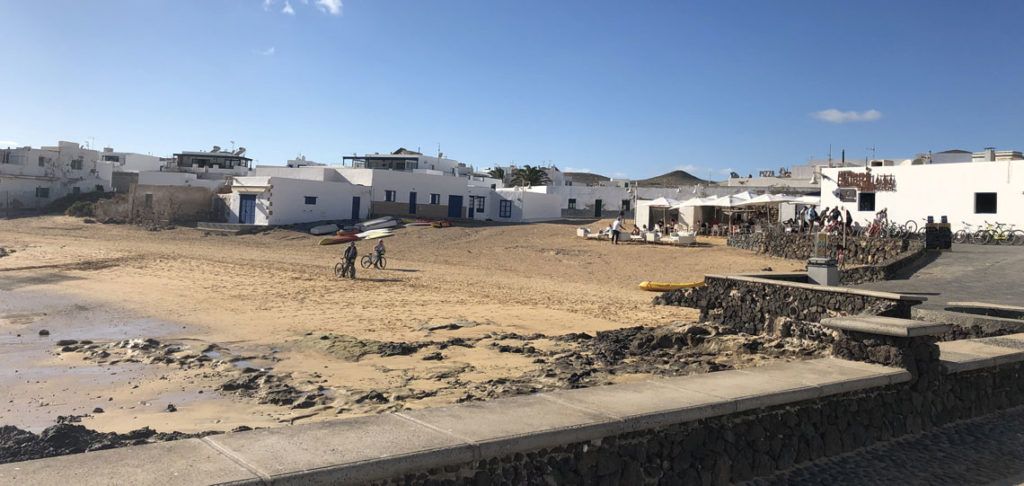 Once there, you can take a stroll through the quiet village of Caleta del Sebo to admire the unpaved streets where time stands still.
Back to the starting point
Half an hour later you will return to Órzola where a shuttle service will take you back to your starting point.
Prices
– Adults €67
– Kids €45
The price includes:
• hotel pick up and drop off
• glass of champagne
• Appetizers
• Lunch
• unlimited beer, wine and sofdrinks
• information provided by a guide who will travel on board
• Kayak
• Cruise with touristic visit
Dates and Timetables
– Winter Season (from 01/11 to 30/06): Tuesday, Thursday and Saturday.
– Summer Season (from 01/07 to 31/10): Monday, Tuesday, Wednesday, Thursday, Friday and Saturday. (Wednesday and Friday only adults)
– Departure time: 11:30
– The pick-up at your hotel will be prior to this time. When making your booking you will be informed of the assigned time and pick-up point.
– Duration: 6 hours approx.
Details of the excursion
Where? La Graciosa – La Francesa Beach
Maximum capacity – 95 people
Duration – 6:00 Approx.
When? All year round
In which languages? English, Spanisch, French, German
Is it an Accessible activity? NO
Is it recommended to go with children? Yes!
Don't forget
– to bring a bathing suit, towel and sunscreen
– And, especially in winter, you should bring some clothes to keep warm during the journey by boat.