Exquisite chill out bar on Playa Blanca´s seafront. Chill out music. Open every day between 11:30am and 02:00am. Address: Puerto Deportivo Marina Rubicón, s/n, Playa Blanca, Lanzarote.
Location map:
There are very few spots on the island due to their ideal location that allow you to view the sunset. In winter, from El Mirador you can witness aspectacular sunset in the centre of the horizon between Lanzarote and Fuerteventura. During thesummer the sun borders the southern coastline of this tourist destination. Also, due to the location ofthis modern chill out bar, situated in the MarinaRubicon, it gives us a permanent connection to the sea and ships that sail daily.
El Mirador is a modern building which at the same time is simple yet elegant. It operates as a snack barand a chill out bar, each with its own designated area. The chill out bar has a desirable terrace consisting of wooden floors and exquisite furnishings. Settle and enjoy on one of the many comfortable couches an aperitif before heading to Casa Brígida for your dinner. Feel the soft chill out atmosphere that flows with the music. The music is at just the right volume allowing you to converse at the same time. Enjoy one of our recommended cocktails; Caipirinha and Bloody Mary. The drinks menu is fairly limited in comparison to other places that are less modern however, the prices are very reasonable and would cost between 5 and 6.50 euros.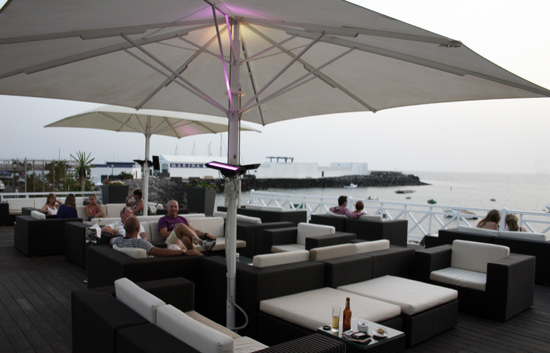 We are a little disappointed with the lack of beer onoffer. On offer you have the choice between La Peroni, Tropical and Dorada however; we feel that they do not fit the bars profile. At least La Peroni is a fine Italian beer and goes down smoothly. The spirit menu consists of pretty much the same. In a place such as this one wants to drink Hendricks gin however it is not the case. The wine list however issomewhat different. You have the choice of variouscava's and champagnes that are of high quality and at a reasonable price.
Once the sun has hidden behind Montaña Roja and dusk begins to fall, Playa Blanca lights up. The view is magnificent. It has struck nine o clock at night and the DJ has appeared. From this moment until 02:00 am those who are night lovers of El Mirador can enjoy an exquisite chill out night. In our opinion there is no better place in Playa Blanca to start the night off. The general atmosphere is of those between the ages 30 and 40 years old. Later you could go on to enjoy listening to jazz in the luxurious Cuatro Lunas (Four Moons), dance the night away in the Jungles disco bar or enjoy another chill out session on Marea`s terrace.