Note: There is space reserved for nonsmokers.
The former Enyesque has reopened as a tavern Asturian pecking. Pelayinos renamed the site as there is no novelty in front of the kitchen in chef's hands again Cipriano. As he was accustomed to its clientele, the cuisine of Cipriano is characterized by a good selection of products, a varied and successful bets as to incoming, and an incredible speed in the service, perhaps too fast. Accompanied by a good wine or cider, a letter of wines and economic completita, different snacks in a pleasant conversation, but a noisy point, know glory.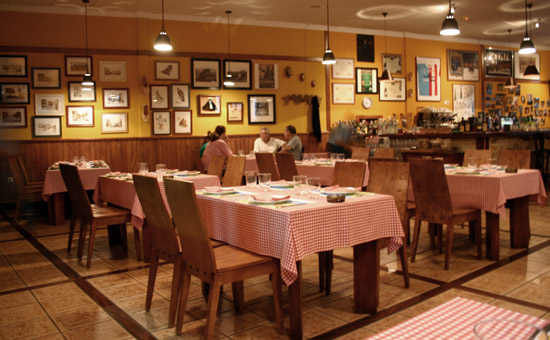 Recommendations focus on the exquisite Cabrales cheese croquettes and Iberian ham, the delicious sausage Matachana, the overwhelming carallada ratatouille and fried egg, the delicate fried tortilla pixín and good cod. It is also a hit to opt for the classic scrambled eggs or Tiñosu always delicious pate.
The pecking letter extends, among other options, wild potatoes and stuffed with seafood, anchovies, sausage and pig's trotters. While notable for its commitment in the recesses, the kitchen preparing larger dishes. The rice with vegetables and squid or the Asturian, chops and tenderloin of beef and cod are the main specialties. Day by day it complements economic Pelayinos a menu of traditional Asturian cuisine.
Taking into account the peculiarities of this corner Dining wine list is fairly comprehensive and economical. The decor has changed significantly from the old Enyesque sobriety. Today, tavern plan, its atmosphere is more colorful and dynamic. The service is in line with the speed of the kitchen. Fast, agile and professional. Only one thing takes time Pelayinos: in the preparation of Don Pelayo sublime pastry with apple gratin, cream and hot chocolate. The best of their dessert menu.