Category: 4 stars
Location: Beachfront, in the tourist area of Puerto del Carmen.
Rooms: Double.
Price Range: Varies according to season, between € 60 and € 80 per night.
Website: Los Fariones.
Map of location:
This hotel was constructed in 1987 and is located in one of the most attractive spots of the tourist area of Puerto del Carmen, on the shoreline of the very long beach of Playa Blanca (commonly called Playa Grande). This apartment hotel revolves around its strategic location, with direct access to the fine white sands of the coast from the large common area of the hotel, featuring a warm, ample terrace complete with two adult pools (one heated) and another freshwater heated pool for children. The opportunities for enjoyment are endless. A morning or evening stroll along the beach, accompanied by the sea breeze; games and sandcastle building for the little ones; a refreshing afternoon swim when the wind dies down, all make the Suite Hotel Fariones Playa the perfect choice for a family-oriented beach vacation.
For an apartment hotel, the price-quality ratio for dining services is excellent. The veteran staff is, without a doubt, a huge asset to this establishment. There is a wide selection available for guests, which is combined with the kitchen's show cooking, in an exotic buffet which takes full advantage of its proximity to the bay. The rooms at Suite Hotel Fariones are well-equipped, complete with a living/dining room, renovated kitchen, bedroom and bathroom, as well as satellite television, background music, and air conditioning. All 231 rooms have a comfortable balcony overlooking the sea.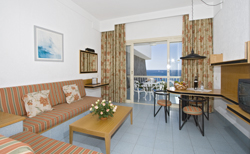 Suite Hotel Fariones Playa provides lots of enjoyable leisure activities. Children can enjoy a park as well as recreational activities directed by a highly competent team. The Cactus Bar and the various performances it hosts provide dynamic entertainment for adults. As far as sports activities and relaxation, guests can exercise in the small gym or squash courts, or enjoy the sauna and massage services. The possibilities for sports activities go on for adults and children alike at the wonderful facilities of the Centro Deportivo Fariones (Fariones Sports Center) (100 yards away), which is owned by the same group and offers swimming, paddle, tennis and paleta fronton. It also offers the Tías Golf Course, an 18-hole course also owned by the same group.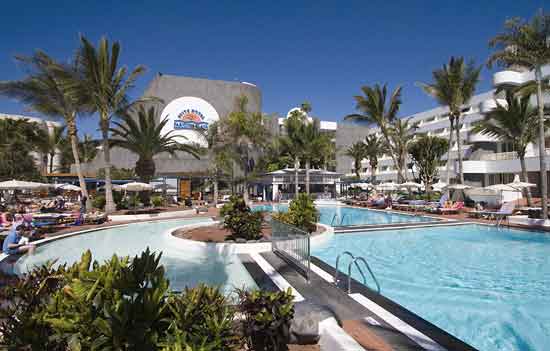 The location of the hotel can be considered ideal as, within its relaxed atmosphere, it is also a short walk from the traditional center of Puerto del Carmen and its bustling tourist avenue. Among the culinary options, dining at El Varadero stands out, with its simply prepared fresh fish, as well as the international service at Bodega. For lovers of nightlife, Puerto del Carmen has an ample selection of terraces, pubs, and nightclubs. Children can enjoy their stay with recreational attractions at the Biosfera Plaza mall or with fun learning activities at Rancho Texas Park.
Click on the link to the hotel's website to obtain pricing information or to make a reservation