What to do in Costa Teguise

— Where to stay. The website of the Tourism Office provides all the information regarding accommodations. Click here.

— Beaches and Coves. El Ancla. Bañadero de Guatiza. Playa Bastián. Los Charcos. Las Cucharas.

— Where to eat. La Jordana. El Bocadito. Kerman. Don Tango.

— Sports. Centro Deportivo Las Marinas [Las Marinas Sports Centre]. Windsurf. Kitesurf. Tennis. Paddle tennis. Golf.

— Cafés and terraces. Villa Toledo.

— Nightlife. Pueblo Marinero. Live music, Jazz…mi madre!.

— For kids. Aquapark. Aquarium. Santa Rosa.

— Climatology.

— Map of location.
In the early 1980's, construction began on this tourist area, situated along the eastern coast of the island a few miles north of Arrecife, Lanzarote's capital city. It is Lanzarote's best planned tourist city in terms of urban development, resulting in wide avenues, vast public spaces and facilities, and a relaxed atmosphere. The city wraps around a three-mile stretch of beaches. The road looks over the main beaches, Bastián, Las Cucharas and Los Charcos, and all around it the area is scattered with seafront hotels, apartments and a full range of cafes, terraces and restaurants. Costa Teguise is exposed to strong winds, which are ideal for recreational activities like windsurfing and kitesurfing. It's not uncommon to see thrill-seekers and swimmers sharing the beach. Along the beaches there are circles made of stones that protect from the wind. The wind alleviates the summer heat, making the weather conditions just right for cycling and jogging.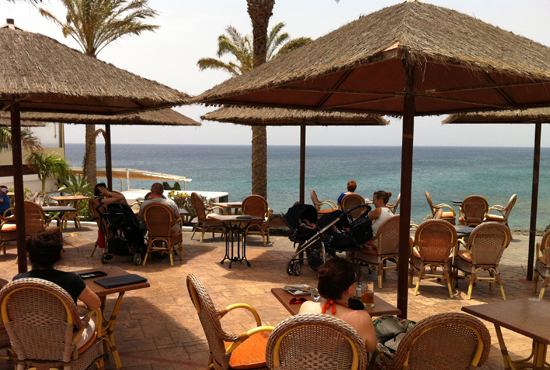 Just outside the tourist area you'll come across the first golf course of the island, Costa Teguise Golf. These 18 holes are just right for players of all levels. The tourist complexes all have sporting and athletic facilities. Facilities for tennis and paddle tennis abound. Las Marinas Sports Centre has offerings for these and other recreational activities.
The tourist development of this area came with a wide array of culinary options. There are excellent restaurants; Don Tango, Neptuno, Isla Bonita and La Jordana are great examples, and great spots for delicious tapas, such as El Bocadito and the highly-recommended Kerman. Despite its tranquil and familial nature, nightlife in Costa Teguise abounds with bars and clubs located throughout the city, as well as a few that offer live music. We recommend Pueblo Marinero or Jazz…mi madre!.
The kids will have a hard time getting bored here. As if the beaches didn't offer entertainment enough, Costa Teguise has included a number of facilities intended for the little ones. The many pools at Aquapark, the sea life on show at the Aquarium or the games at the Santa Rosa recreation centre, open up diverse options for kids.