What to do in Puerto del Carmen

— Where to stay. The website of the Tourism Office provides all the information regarding accommodations. Click here.

— Beaches and Coves. Barranco del Quíquere. Playa Blanca. Cueva de Doña Juana. Los Pocillos. Matagorda.

— Where to eat. Bodega. O´Botafumeiro.

— Sports. Centro Deportivo Fariones. Tennis. Paddle tennis. Scuba Diving. Golf.

— Cafes and terraces. Los clásicos del café. Café del Carmen.

— Nightlife. El Varadero, Heineken and San Miguel outdoor terraces. Centro Comercial Atlántico [Atlantico Shopping Centre]. Live Music, Charlie's.

— For kids. Rancho Texas.

— The weather in Puerto del Carmen.
Puerto del Carmen, traditionally known as La Tiñosa, is a tourist city which arose from scratch in the late 1960's. These five miles of calm seaside offer an extensive selection of hotels and apartments (approximately 30,000 beds). La Tiñosa, an old seafaring town, is the only remaining vestige of the past. The city's port, El Varadero, is connected to the coast's main beaches and public docks. The bustle of the commercial zone of the city makes for a pleasant stroll among the locals and visitors dressed in summery attire.
Puerto del Carmen enjoys excellent weather, owed in large part to the fact that it is sheltered from the constant winds that sweep Lanzarote. The almost always clear skies make Playa del Carmen one of the best beach destinations in all of the Canary Islands. In fact, beaches abound in this tourist area. Just outside La Tiñosa you'll find many beaches, such as La Barilla, Cueva de Doña Juana (belonging to the Fariones Hotel) and Playa Blanca (known as Playa Grande on the island, thanks to its wide stretch of sand). All the beaches offer inviting waters, though we consider Barranco del Quíquere to be the best of the bunch.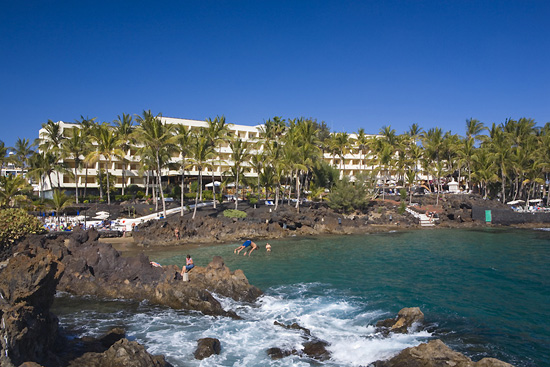 Towards the northern end, you'll find Puerto del Carmen's most touristy section. The busy avenue along the beach is a pleasant mosaic of businesses, restaurants and recreation. Nightlife in Puerto del Carmen is not to be missed. Overlooking the sea you'll come across, bars, clubs, live-music venues and spectacular terraces. The avenue connects Las Naciones park withLos Pocillos and Matagorda beaches. These miles of walkway are ideal for recreation, jogging, cycling or skating. From right on the beach you can watch the planes land on the island. Many of their passengers are just hours away from enjoying the pristine waters of these very beaches.
Perhaps due to the fact that many British and German tourists prefer this area, sports activities seem to focus around racquet sports. Many tourist complexes offer facilities for tennis and paddle tennis. The Fariones Sports Centre and the Match Point tennis club with their clay courts are two excellent spots for tennis and paddle tennis enthusiasts. Golf lovers have 18 holes to enjoy just a few miles away at Lanzarote Golf. The stunning underwater world of this stretch of coastline can be explored during the many diving sessions organized regularly by local scuba diving schools.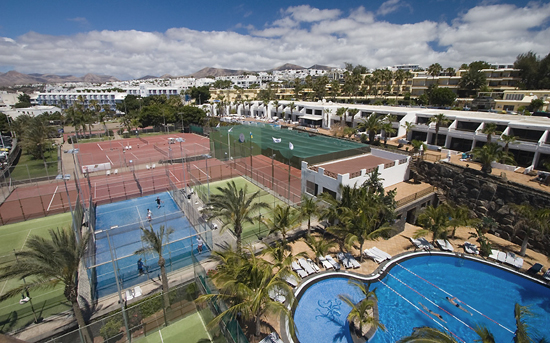 Puerto del Carmen is also an excellent tourist destination for families. El Varadero has a solid selection of ocean and underwater excursions. Likewise, the Biosfera Plaza Shopping Centre has several attractions for kids. Rancho Texas, a nearby theme park, has an impressive range of exotic species: Birds, reptiles and sea animals.