What to do in Teguise?

– Where to eat? Lagomar, Ikarus, Biorestaurante Hesperides, La Cantina, La Gallery. Sol (Famara). The snack (Costa Teguise), Don Tango (Costa Teguise) La Jordana (Costa Teguise), Kerman (Costa Teguise).
– Cultural Spaces. Jardín de Cactus (Guatiza), Museo del Emigrante, Spinola Palace, Santo Domingo convent, Café Jaleo.
– Coffee. Cejas and Café Jaleo.
– Night. Pueblo Marinero, Costa Teguise.
– Market. The best sign of Lanzarote. Every Sunday from 09:00 to 14:00.
The ancient capital of Lanzarote until 1798, La Villa de Teguise is one of the few urban towns to still have its architectural structure preserved and intact. Its pedestrian pavement still gives that rustic feel to match your daily parsimonious. Since its birth in 1418, Teguise was noble and was an elegant town during the dynasty of Bethencourt and Herrera and which produced a lot of wealthy architecture. Its impressive monuments and palaces show the importance it has in the world of culture and nature on the island.
During your visit you must not forget to pass by the Church of Nuestra Señora de Guadalupe and to take a walk through el Palacio Spínola and el Convento de Santo Domingo. Teguise´s assets however are not used exclusively and most of its buildings are in use today. There is a charming variety of both tapas and some great restaurants for you to enjoy. At the top of Guanapay Mountain, which is home to La Villa, you will come across the oldest fortress of Lanzarote, el Castillo de Santa Bárbara. This castle was built in the first half of the sixteenth century by a man called Sancho Herrera. This became a refuge from frequent pirate attacks during this period of time and in 1991 it became the Museo del Emigrante. This museum holds a very important set of documents about Canarian emigration from the eighteenth and nineteenth centuries.
The municipality of Teguise disperses many payments coinciding with its architectural traditionalism and tranquility. The scenery of the valleys of Guatiza and Teseguite are beautiful. The cactus silhouette deserves a special mention that is formed by the town of Guatiza and its neighboring town of Mala; this was the last artistic creation of César Manrique on the island and was named Jardín de Cactus.
A few kilometers from La Villa, to the northwest coast of Lanzarote, you will come across one of the best beaches on the island, Famara. It is bordered by a spectacular cliff which overlooks the Archipelago of Chinijo. Famara has a natural beach and is almost 3 kilometers of long therefore has a great deal of potential. Whether you want to relax or to take part in sport (ideal for adventure sports like surfing and kite surfing) then this is the place as it will suit the whole family. Please be aware that when entering the water you must do so with precaution because sometimes the seas currents join with the seas eddies causing turbulent patterns resulting in the sea to be a little rough. The town of Caleta de Famara has a sandy pedestrian crossing; it is a charming town and has a small fishing port and countless leisure and gastronomical possibilities.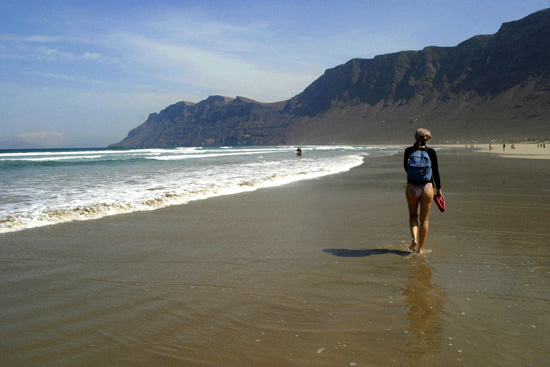 Teguise also houses the tourist resort of Costa Teguise. Its climate conditions make it particularly suitable for tourist sports, especially windsurfing. This area of Lanzarote receives less tourism and is therefore much quieter.