Surfing is an adventure for children. It allows knowledge of the environment, develop their physical, is a very fun sport and at the practice in group socialization encourages the boy. In general, Lanzarote surfers learned in real situations, in the midst of a wave, falling, stumbling, picking up little by little trick to take advantage of this enviable wave surfing so characteristic of the north of the island.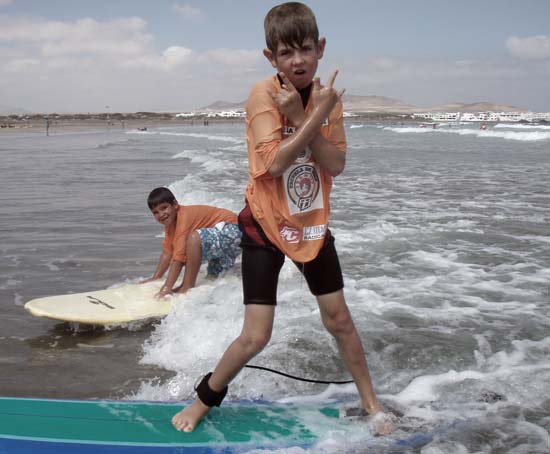 Currently, there are some schools that facilitate the acquisition of the main tricks bound to develop in the wave. They are given very basic notions out of the water, but the most important process taking place at sea where Chinijo face, enjoy and learn with the waves of Lanzarote.
Where to learn surfing in Lanzarote?
– Surf Club Deportivo Franito: Introductory courses during the year. Hours: Winter: Saturday and Sunday morning (approximately four hours per day), Summer: Monday to Friday during morning and afternoon. Price: 60 euros per month. Information: [email protected], 669 075 970 (Ask for Fran Saenz) and the web page of the sports school.
– Calima Surf: beginner and advanced courses. Rates, schedules and information: 626 913 369 and calimasurf.com.