If you are looking for thrill and adventure on Lanzarote, I recommend you to visit the 6D Cinema Galaxia of the Biosfera Plaza Shopping Center.
Cine 6D
Cine 6D offers an exciting, next generation thrill ride where fiction meets reality.
At the 6D Cinema Galaxia you will experience an amazing fusion of HD, 3D media and flight simulator technology that is going to stimulate all your senses.
There is no doubt that this epic experience is unlike anything you have ever seen before.
Your heart will pound. Your survival instincts will be on overload!!!
Galaxia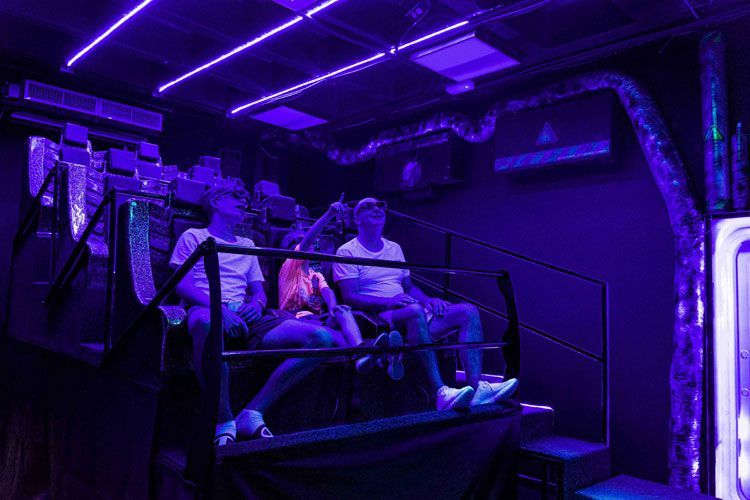 Come visit Galaxia and enjoy spectacular 3D graphics, in-theater special effects and booming digital sound.
You will feel like you're really there!
Instead of just watching a movie, you'll be part of it.
Stimulate your senses during this wild journey thanks to more than 7 different special effects.
Experience 4-foot drops with all kinds of twist, g-forces and crazy turns in this 9-seat futuristic space capsule motion ride theater.
At Galaxia you can choose between a wide range of movies to see… and feel!!!
Enjoy fantastic journeys and experience original movies in the most spectacular way.
In addition, the high specification equipment prevents any adverse effects such as nausea and dizziness.
For those who are movie addicts, we have good news, as movies are screened on a continuous cycle every day.
SkyRide
Feel the wind through your hair as you fly over the breathtaking landscapes of Lanzarote.
Skyride offers you a unique virtual tour around the island of Lanzarote thanks to the very latest in computer controlled simulation.
Go where few have gone before. Fly over volcanoes, slide around cliffs and splash down to the sea.
A large, high-definition screen, synchronized with the in-cinema multi-movement simulation system, offers plenty of real-world effects.
Fasten your seatbelt and get ready to enjoy this incredible adventure!
OceanDive
Dive into the wonderful underwater world with OceanDive Cine 6d and discover the enormous variety of marine life around the Canary Islands.
Enjoy a journey full of discovery under the Atlantic Ocean with OceanDive.
A real diving experience, where you can swim with dolphins and whales, discover ancient shipwrecks, see caves and submarines.
Coffee bar and restaurant
If you feel like having al little break to recharge your batteries, the Bar Starcaf is right next door. All you have to do is enjoy yourself and have fun!
And in case you get hungry, the Lost World Theme Restaurant is located on the same floor.
Opening hours and prices
The Cine 6D Galaxia opens every day of the year from 10 a.m. to 11 p.m., except December 25th.
Please note that there is a price difference between the movies at Cine6D and the virtual tours SkyRide and OceanDive.
Ticket prices for movies at Cine 6D are of 7 euros per session and they offer a special price of 10 euros for 2 sessions/movies.
The price for SkyRide and OceanDive is of 10 euros per session.
The minimum age for children at Cine 6D Galaxia is 3 years.
How to get to Cine 6D Galaxia
Cine 6D Galaxia is located on the 5th floor of the Biosfera Plaza Shopping Centre in Avenida Juan Carlos I, nº 15, in Puerto del Carmen.
On this map you can see the exact location of the shopping centre and use Google Maps to reach your destination.
Contact
For more information you can have a look on the website of Cine 6D Galaxia.
You can also contact them by email at [email protected] or by calling the telephone number +34 928 511 690.