Lanzarote a caballois one of the few places on the island where parents and children can share entertainment surrounded by nature. The facility uses its animals, horses, ponies, and camels to make the youngster feel new sensations.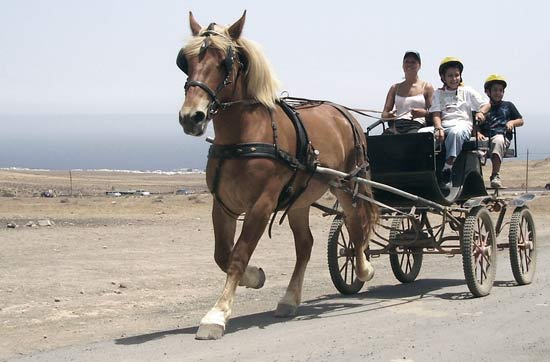 15-minute and one hour camelback excursions are organized through the environs of Lanzarote a caballo, through rural areas near La Asomada, Uga, and La Geria, with the spectacular backdrop of the sea that separates this island from Fuenteventura. A camel-drawn carriage is also available, which gives a quieter and more peaceful feature to the excursion. The pony is another opportunity for entertainment.
Rates
– Camelback ride (15 minutes): Adults, € 15; children, € 10.
– Camelback ride (One hour): Adults, € 45; children, € 35.
– Cart excursion: Adults, € 10; children, € 7.
– Pony excursion: Exclusively for children, € 5.
All rates include one consumption at the facility's restaurant.
Lanzarote a caballo is located at kilometer 17 on the Arrecife to Yaiza road (between the roundabouts of Puerto Calero and Playa Quemada). Hours: Winter: From 10 a.m. to 6 p.m.; summer: From 9 a.m. to 7 p.m. Information and reservations: +34 928 830 038.