Cafeteria of the Arrecife Gran Hotel with spectacular views of the capital of Lanzarote. Hours: Sunday to Thursday from 10 a.m. to 2 a.m. and Fridays and Saturdays to 3 a.m. Smoking is allowed. Location: 17th floor of the Arrecife Gran Hotel. Parque Islas Canarias, s/n. Information: +34 928 800 000.

MAP OF LOCATION:
Arrecife from the sky. One of the most attractive cafeterias of the capital of Lanzarote is located on the seventeenth floor of the renovated Gran Hotel. From above the duality that characterizes the city of Arrecife lately can be seen clearly. One that shines by its own light with its impeccable marina. The other, the chaotic and neglected urban perch of its buildings, as well as its extremely narrow and impractical streets. Let's be positive then and just look at the sea.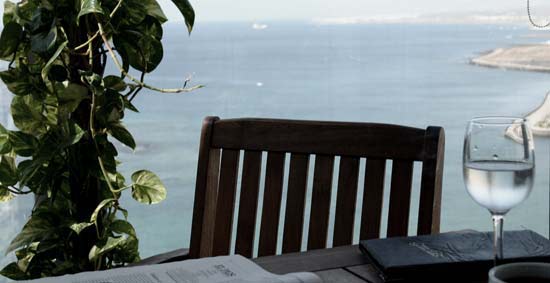 The view of El Reducto beach and its tiny bathers. The play of colors of the waters of the bay, combined in a unity between blue and emerald green. The historical group of San Gabriel Castle and Las Bolas Bridge. The active Islote de Fermina and the unexplainable paralysis in the Islote del Francés. All in one, the Arrecife marina from about 230 feet [70 meters] up.
The terrace is open until all hours of the night, which should allow you to take in the night view of Arrecife, although from our point of view the greatness of the place is more attractive during the day. At Star's City, the list of cocktails is varied (Manhattan, Mojito, Caipirinha…), with liquors, juices and shakes and a large selection of coffees, teas and other infusions. Those with a sweet tooth can also sample a wide variety of pastries.
The service is quite good. The atmosphere is relaxing. The music varies from the tranquility of the morning and afternoon, featuring jazz music, and the sounds of disco on Friday and Saturday nights.
People who are afraid of heights also have their place in the Gran Hotel. On the ground floor the Gran Snack Bar (cafeteria and terrace on Arrecife Avenue on the oceanfront), from 8 a.m. to 12 p.m., offers similar services to the one on the Arrecife rooftop.
What to do before and after: The Multicines Atlántida [Atlantida Cinemas] is a pleasant five-minute walk away (consultar cartelera). There is cultural life at El Almacén and MIAC. Star's City Arrecife Gran Hotel, is also very close to El Portón, La Luna and Los Conejeros for an outing of tapas. And it is also very close to the Arrecife nightlife.