La Puntilla is located in an exclusive area of Lanzarote's capital called El Charco de San Ginés. Day and night alike, the view of this remarkable Arrecife establishment is one of its main attractions. But when the weather is right, the terrace provides the ideal setting to sample the flavors of one of the best restaurants in Arrecife.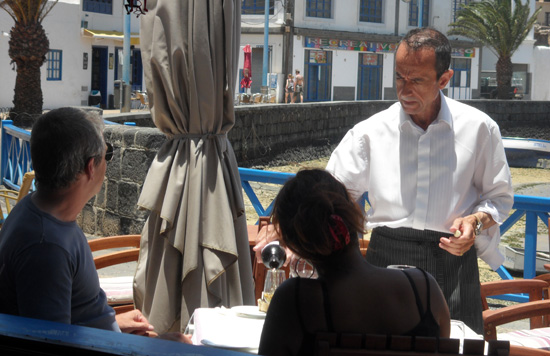 The décor is a mix between a modern-style tavern and an unpretentious restaurant, which does not necessarily reflect the quality of its cuisine. The main indoor seating area, which serves as the non-smoking section, is covered in a sea-blue color very traditional of the houses in el Charco. The atmosphere is calm and pleasant, and the menu, though not extensive, includes delicious and authentic foods. For example, you can try a local tuna dish called ventresca de bonita, seafood croquettes, grilled goat cheese, or the typical scrambled eggs with Spanish sausage. Some recommended dishes from the kitchen's garden include the prawn salad with guacamole and avocado with Santoña anchovies.
The fish options depend on the tide in Lanzarote. One of the specialties at La Puntilla is the cod or bacalao which can be either cooked at a low temperature or breaded with toasted wheat flour or gofio de trigo. Also highly recommended are the bomba rice dishes, which is a rice variety typical of Spain, especially the black rice one. The meat selections are limited to veal cutlets, sirloin steak with piquillo peppers, and a beef filet with duck foie gras.
The wine list at La Puntilla is superb, though rather pricey in our opinion. As far as the dessert menu, this restaurant outdoes itself: caramelized pineapple with chocolate, mango and coconut, lime sorbet with Spanish sparkling wine cava and papaya, and huevo mole, which is a Spanish egg custard with palm honey and gofio ice cream. The wait staff is attentive and efficient.
What to do before and after: This restaurant is located in an area very representative of the city of Arrecife, el Charco de San Ginés. The beach offers various places where you can have a drink just steps away from the ocean. The movie theater Multicines Atlántida is also located just a few meters from La Puntilla (check movies). Another option is to have an after-dinner drink or coffee at the nearby Castillo de San José. If after dinner you prefer something more lively, you can find it in downtown Arrecife, just a short walk away.