Nino extends its simple but tasty cuisine natural space of the Gering. Bodegas La Geria gains a new appeal for his visit. Strain occupies a strategic corner of the infrastructure for wine. Surrounded by the unique landscape picture, the view from this place of snacks and tapas catch the back of Timanfaya. A postcard to take advantage and not give up with a successful windows introduce you, in full, in the mystical beauty of this privileged area of Lanzarote. The residence that exudes taste wine, has a modern decor in its inalienable rustic aroma. The oak wood floods inviting place to taste wines accompanied Lanzarote kebabs and snacks.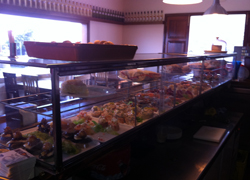 Unlike Nino's Tavern, Strain firmly committed to a wide range of sandwiches. A very good price, are ideal for appetite. Salmon and guides, pimientitos and tuna, cod, Iberian and cheese … definitely an ambitious range of different snacks. However, we believe the great success of its cuisine is based on their fat caps. Simple kitchen, worked with sound combinations, generally good products. We checked with the always exquisite tuna tartare and cracked body and tasty baked brie cheese combined with walnuts. We also surprised Iberian croquettes mixed with banana and delicious sausages Teror sauce with strawberries and beets. The tapas menu is extended with tables and Iberian cheeses.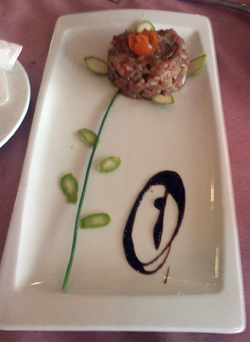 We recommend supplementing the gourmet menu with a more compelling pieces featuring the cuisine of Strain. It should be noted the correct selection of products, meats and fresh fish of good quality. The treatment is very simple to them passing by the grill. We particularly liked the tuna and stone bass, tasty, and as a succulent meat steak stands. With regard to the bakery, the supply is limited, one or two desserts, but at least takes note its homemade.
Housed in Bodegas La Geria Strain is intended only for the brand wines with denomination of origin of Lanzarote. White, red and pink. We recommend that you opt for white Malvasia, made much more from our point of view. This corner of snacks and tapas in the newly born Geria (opened in December 2010). In this regard, it is said that the equipment in service and ease of the kitchen should be greased to keep up her sister Nino's Tavern In Puerto del Carmen. We also mention the need for something warm, and very clear that the heavens are Lanzarote, since La Geria forms a very wet area. As for the account, again we got a pleasant surprise with a more correct value for money. Well fed, and drunk, for between 15-20 euros.