Tapas strange corner of this quality in the tourist resort of Puerto del Carmen. Away from fish and chips and other fast food places that are flooding the promenade of this area Nino's Tavern offer a wide assortment of snacks and tapas at a great price. Tested a substantial appetizer of octopus sandwiches and a delicious ratatouille skewer with quail egg. The letter extends the possibilities of coming with a salad, beef carpaccio with Parmesan cheese and Iberian.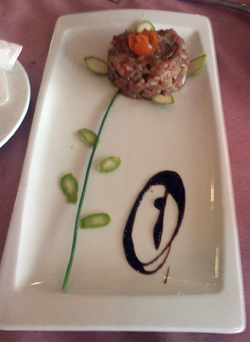 However, the grace of the site comes from its long list of tapas. Having trouble deciding. Rolls of veal and peppers and avocado and crab, artichokes and marinated salmon, tempura chicken in cheese sauce, croquettes, fried cheese with fresh figs, scrambled … We went for a chilly tuna tartar, in point, very good quality. Weird surprised to taste the crab cakes (crab) and we enjoyed a morcillitas of rice accompanied by a c rows of strawberries and pine nuts. Other snacks available are delighted with Cabrales (at last test and highlights its simple preparation, highlighting the strong flavor of Cabrales), sausage with eggs, Iberian skewer with pineapple or float with mozzarella in tomato syrup. Entiéndannos trouble deciding when we say that because the kitchen prepares the day 42 caps. Nothing surpasses the five euros (about three to four euros almost all) and are well stocked, so that the relationship tion for money is unbeatable.
The skewers can be combined with most succulent dishes. Fish and meat. Grilled tuna and stone bass, sea bass fillets, salmon in foil and fresh fish. As for meat, the grill also is offering a great steak. The tenderloin can pass through the grill or prepare with sauce or foie cabrales. The chicken and lamb shoulder are other possibilities. On both occasions we went through Nino's Tavern shared a grilled steak, delicious, and a correct tenderloin with foie. In a recent visit we opted for an excellent grilled tuna. With respect to local comment is a simple, in terraces, rustic and maintains a profile has a robust and comfortable furnishings.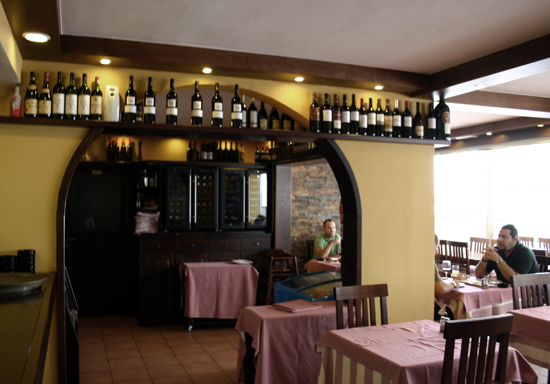 The wine finishes we are not convinced, despite its solvency, but are missing a greater variety. Nor are consistent pastry options with your excellent selection of tapas and rations. A volcano of chocolate cake bienmesabe and proper chef. Yes the service is consistent with the site. Up close and friendly, extremely agile and very professional for what is third in Puerto del Carmen. It recommended the reservation if you decide to visit Nino's Tavern dinner snacks based on Friday nights and Saturdays.